DSC00012
Originally uploaded by bruisin_raincloud

this is a picture of a pair of socks that I knitted for my groom this Christmas :o)
blocking on this bed is a scarf I knitted for my step FIL for Christmas (he also was given a hand sewn quilt for his favorite team Georgia Tech)
a shawl that I knitted for my grooms Granny, it took me a whole month to finish
this is a '4 way ascot' I knitted these for my MIL, and my grooms Aunt Phyllis
socks for my MIL (she has the worlds smallest feet, I promise! LOL)
"Abby" that I knitted for Joyce (a friend of mine on Ravelry) it was beautiful!
and not to be forgotten,
our Lil'Man
I made my first ever sweater creation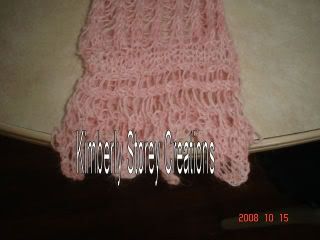 made up all by myself from start to finish :o)
baby goodies (awwweee)
ugly socks for my groom (sorry honey!)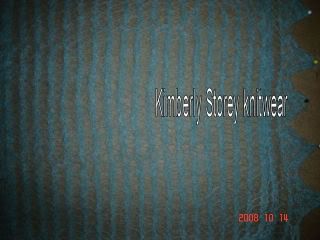 scarf :o) my First knitwear sell!!
my first knitted shawl, for my MIL about a year ago
I knit socks 2 at a time (magic loop method) and its embarrassing how much I knit socks
see? Another pair
aweee baby socks.....would people slow down having babies already?? LOL
Pookie's b'day present....awee she looks so sweet in this! :o)
(told ya......it's too many socks, right?)
my very first Victorian Lace Shawl...for my MIL (man I knit for her a lot...LOL)
soap bath (cute quick gift)
(0kay, I'm throwing in a little handsewing too...for another baby!)
some ugly mittens I messed up totally!
I'm not giving up yet!
something else for my Supergirl
a gift for a dear friend
the "BREE" made for a neighbor. Her Mother was in jail & she was having a hard time, so I wanted to make her smile.....
you see these socks? They "were" mine..I have worn them so much that they are now unraveled.......knitted socks are the bomb!
a pair for my Wonderboy
"Cozy" that I made to 'honor' my Sugar Momma, gifted it away.
made this for one of my step Mom's presents for Christmas. (went over like a lead balloon)
scarf/fingerless mitts (will I ever get this right?)
one of the cloths I knitted this year
a quilt I sewed for my Granny Elva
knitted kitty pin cushion!
fully lined mini needle roll (lace)
carry all bag (sewn)
skull cloth :o)
more baby goodies!
hats hats and more hats
I also handsewed bags/purses this year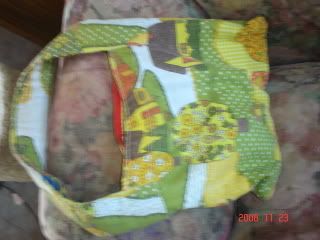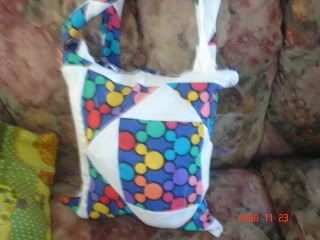 (I also hand sewed my Dad a quilt out of the white pieces from this material, it went over like a lead balloon too...it's still in the box, in their shut off room with the shawl I knitted & the purse I knitted....sob.....)
I have a lot more to post, will post those in a few :o)